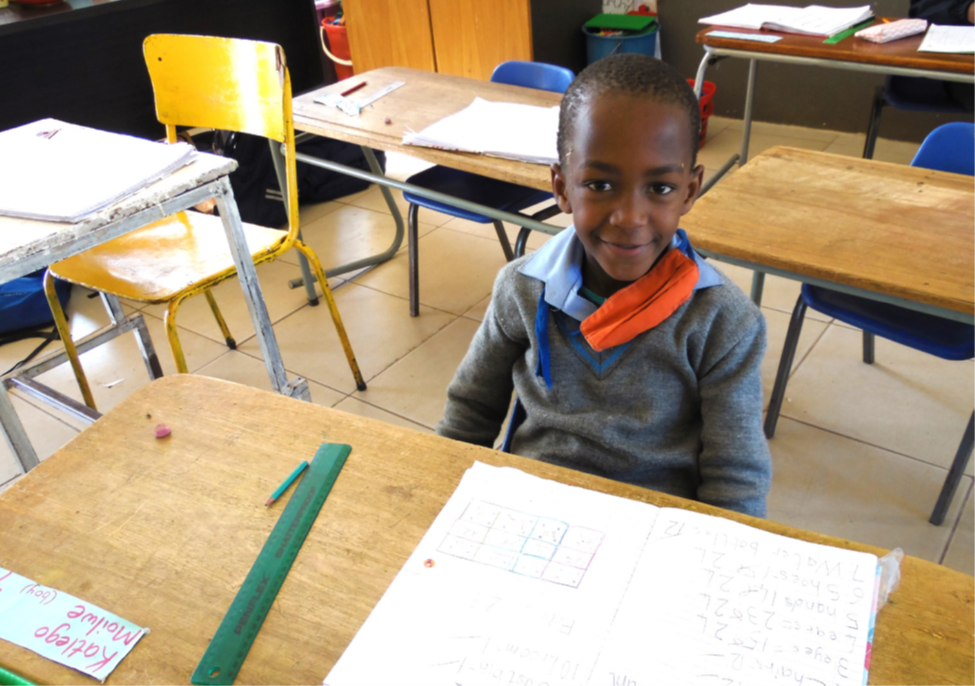 Hope After an Accident
Katlego is an 8-year-old boy in Grade 2. He loves attending school and first enrolled at Orphan's Promise partner, Dayspring Children's Village, in kindergarten.
He stays with his mother, but his father is still involved in his life. He and his mother attend church with his former Grade 1 teacher.
In March 2021, Katlego was involved in a terrible car accident. A drunk driver with no driver's license and an unroadworthy car turned into a road right in front of them, plowing into Katlego's car door. The car door smashed in under the impact, and Katlego's right leg, from hip to ankle, was crushed. It was a miracle that he survived because the car was totaled.
Sadly, Katlego sat in the hospital for nearly a month before any doctor could decide what to do. At first, they were hesitant to put a cast on his leg. However, they decided to place a cast from just below his hip to the tip of his toes. He then sat in the hospital with a cast on for a month.
Hope through despair
Once discharged, the team visited Katlego in his tin shack on the slope of a steep hill in a township. He was still unable to move on his own.
The hospital sent him home with crutches but no physiotherapy or training to help him regain strength. Orphan's Promise partners then decided to teach Katlego how to use the crutches. They prepared his granny and aunt how to support him while he learned. He soon caught on.
He missed the end of the first and second school terms but was finally released to attend school in term 3. They had him stay in the boarding house during the week and on weekends so that his teacher could work with him and spend extra time helping him catch up with his missed learning. She soon realised that he had lost all of his previous learning and had begun to stammer. The team was unsure if this was due to a head injury, trauma, or a different issue.
Katlego was excited to return to Dayspring with his family and beloved teacher. He arrived still on crutches, but with some of the strengthening work the staff did with him, he soon got around without his crutches. His recovery is truly a miracle.
Praying for healing
The team trusted God for his academic improvement and healing of the trauma caused by the accident. At the end of the year, thanks to Katlego's great attitude and his teacher's incredible support and love, he not only passed Grade 1 but also received some awards.
Katlego started in Grade 2, completely healed and ready for the challenge of schoolwork.
He started doing better at school, and his performance improved tremendously. Soon enough, he ran all over Dayspring as if he had never had a crushed leg!
Katlego is a great kid with a sweet disposition and is a friend to everyone. He was the class leader in Grade 2 and did a great job. Furthermore, he is quick to smile and is very helpful to the staff. We are so thankful for God's healing touch on Katlego.
We are privileged to play a small part in Katlego's life and are thankful for the positive outcome. His mother, too, is incredibly grateful for the ongoing support. She expressed her thanks by stating: "Please tell Orphan's Promise thank you for paying school fees for my son. I try my best, and you help a lot."
"And we know that for those who love God all things work together for good, for those who are called according to His purpose," (Romans 8:28).
To help other children like Katlego, visit https://tpizone.com/donate/ today!